Mondays
4:30-5:30pm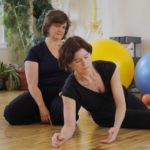 Are you interested in improving and/or maintaining your mobility, balance and pleasure in moving as you grow older (whatever age you are now)?
This movement class focuses on developing and practicing the awareness and movement skills that support getting down to the floor (or a chair) and back up. We will draw upon developmental movement patterns and principles of Body-Mind Centering to cultivate clear pathways of support and ease in movement.
Open to any level of movement experience and any age. Students are expected and encouraged to move safely into levels and positions that they can also get themselves out of.
Read testimonials from adults who have explored developmental movement with us.
PRICE & REGISTRATION
$20, $15 for BP Members
$180 for a 10-class card,  $150 for BP Members
This is a small group class and pre-registration is required.
Please contact Sarah at sarah@babiesproject.org before registering the first time.
BOOKING

Questions? Email us at babies@babiesproject.org.