We're delighted to have the following practitioners regularly offering their services in our treatment rooms at Babies Project. Please read more about them. Contact them directly to find out more and schedule appointments.
Jeanne Reilly
Jeanne Reilly, M.S., Lac. is an acupuncturist, bodyworker, and movement teacher. She works with a wide variety of conditions, including musculoskeletal issues, hormonal health, fertility, pre- and post-natal care, insomnia, digestive disorders, and neurological problems. She has a Master's of Science from Tri-State College of Acupuncture and a Bachelor of Arts from Barnard College. Her work combines principles from Chinese Medicine and mind-body movement techniques. As an acupuncturist, she is trained in three distinct styles of hands-on practice (TCM, Japanese/Kiiko Matsumoto style, and Trigger Point Therapy/Dry Needling), as well as tui-na (Chinese medical massage) and Zero Balancing.  As a movement teacher, she has studied Gyrotonic/Gyrokinesis with Leda Franklin and Juliu Horvath, Pilates with Kelly Kane, anatomy and body reading with Tom Myers, PNF (proprioceptive neuromuscular facilitation) and functional  anatomy with Irene Dowd, and Bartenieff Fundamentals and Body-Mind Centering®  with Amy Matthews. In addition to her years of experience and study with these excellent teachers and institutions, Jeanne brings her fascination, curiosity, and reverence for the human body to each session; the notion that the body itself is our greatest teacher is at the center of her approach.
CONTACT JEANNE: email jeanne@integrativemovement.org
Rebecca Wender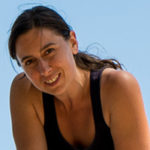 Rebecca Wender is a New York State Licensed Massage Therapist and California Certified Acupressure Practitioner. After becoming an acupressure practitioner in 2005, I began a San Francisco-based private practice. Upon returning to New York I entered into a two year intensive education program with the goal of expanding my own style and knowledge base and obtaining my New York massage license. I graduated from Pacific College of Oriental Medicine in 2009, and have been practicing privately in New York City since that time.
I believe in providing personalized care that is specifically catered to the needs, physical capabilities, and injury issues of each client. I combine circulatory, deep tissue, myofasical, and eastern massage techniques into my own unique style that can be customized for various preferences of pressure and modalities. I also provide Shiatsu and Pre-Natal massage in addition to some reflexology, and Tui Na. Keeping your body healthy with regular massage sessions is a major element of both preventative care and recovery. Because I am devoted to caring for my clients, I will always refer you to other medical and bodywork practitioners whenever I think it is necessary or beneficial and I am always available for questions from my clients both during and outside of scheduled appointments.
Born and raised in Baltimore, MD, I attended Columbia University, graduating with a degree in Dance and African American Studies. As a dancer and choreographer, I have performed in a wide variety of productions and with numerous talented artists, including choreographer/director Martha Clarke, filmmaker John Turturro, luciana achugar, and RoseAnne Spradlin. I currently dance with the choreographers Juliana May and Antonio Ramos, practice yoga regularly, and enjoy cycling all of New York City.
CONTACT REBECCA: email rebecca.wender@gmail.com
Michelle Boulé
Michelle Boulé is a Certified BodyTalk Practitioner who uses somatic, energy and consciousness-based practices to help her clients achieve optimal health and well-being. Clients have worked with her to get to the root of symptoms, including but not limited to anxiety, depression, trauma, digestive issues, autoimmune disease, infertility, physical injuries and chronic pain. She has also supported people through pregnancy and labor, life transitions, relationship challenges and creative projects.
Michelle has studied the body and movement for 35 years. An award-winning dancer, choreographer and teacher of international renown, she has always believed that creativity, movement and healing are inextricably linked. A dance injury at the age of 16 opened her eyes to the possibilities of holistic healthcare, and her intimate understanding over the years of how the body moves, has led to an ability to connect to clients with precision and compassion in her practice of energy and consciousness-based medicine. Michelle became a Certified BodyTalk Practitioner in 2008, immediately recognizing it to be one of the most comprehensive, effective and efficient healthcare modalities she had ever encountered. It transformed her life, to say the least, by giving her a profoundly different understanding of how the body, mind and spirit find vitality and health. She maintains her certification through continued study with the International BodyTalk Association and has completed all of the Advanced Module training. She adds to this an already broad repertoire of healing modalities studied over the course of twenty years, including SourcePoint Therapy, BioGeometry®, Yuen Method, Body-Mind Centering®, Fitzmaurice Voicework, Alexander Technique, Franklin Method, Feldenkrais Method, yoga, Ayurveda, and contemporary performance.
For Michelle, each session is a gift, and she remains grateful and inspired by witnessing the transformation in her clients' health, growth, creativity and general well-being.
CONTACT MICHELLE: email michelle@mbodyradiance.com