Tuesdays 12-1pm
Thursdays 8-9am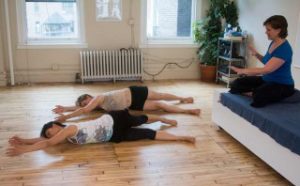 This class weaves together principles of embodied anatomy, developmental movement, the Bartenieff Fundamentals and Proprioceptive Neuromuscular Facilitation (PNF) to take you on a tour of your own body and breath.
The full class is spent lying on the floor, focusing deeply on connectivity within the body and your relationship with gravity and space. These relationships and connections are the building blocks for our activities of daily life, as well as for practices like yoga asana, martial arts, sports, etc.
No prior experience with yoga is necessary. This is an excellent class for anyone who would like to know their body better.
Read testimonials from adults who have explored developmental movement with us.
PRICE & REGISTRATION
$20, $15 for BP Members
$150 for a 10-class card
This is a small group class and pre-registration is required.
Please contact Amy at spiralamy@babiesproject.org before registering.
BOOKING
Questions? Email us at babies@babiesproject.org.