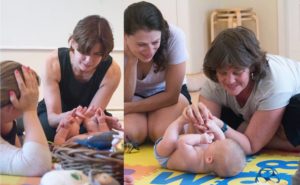 Come learn to observe, appreciate and facilitate your baby's movement and perceptual development. Our developmental age-group focused classes are child-oriented and child-led. We value process over milestones and respect each child's timing as their whole self develops.
These 45-minute classes are limited to 6 babies and their caregivers. Our intention is to meet each child and caregiver where they are. Let us know if you have questions about which class best meets where your child is now.
Through a combination of discussion, observation and practice with the babies, we'll cover developmentally relevant topics that apply to all age groups, such as:
how to support your baby's sense of safety, comfort and bonding as they arrive
handling and touch principles and techniques
rhythm and timing
balancing flexion and extension
"baby ball" and flexor tone
how to observe preferences and facilitate more choice
self-regulation
We'll also cover topics relevant to each particular developmental level, summarized below.
orienting to gravity, including side-lying and tummy time
finding "midline" and how to support it
supporting your baby's crying and processing
weight-shifting and rolling
SCHEDULE
Wednesdays, 11:30am-12:15pm
Thursdays, 2-2:45pm
Register for Birth to Rolling >>
symmetrical and asymmetrical movement patterns
pivoting and belly crawling
head righting
pathways to sitting
SCHEDULE
Thursdays, 3:30-4:15pm
Fridays, 12-1pm
Register for Rolling to Crawling >>
orienting to space, including reflexes and falling
belly crawling into hands and knees crawling
pathways to sitting
supporting kneel sitting, kneel standing, kneel walking, squatting and cruising
pathways to standing and walking
SCHEDULE
Tuesdays, 4:30-5:15pm
Wednesdays, 1-1:45pm
Register for Crawling to Walking >>
Questions? Email us at babies@babiesproject.org.