Wednesdays, 2:30-3:30pm
Fridays, 10:30-11:30am
occasionally Saturdays, 10-11am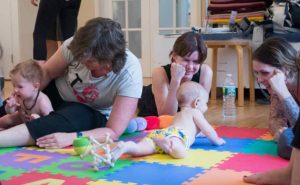 This one-hour Intro & Orientation class is the first step in registering with your baby for our by-donation Babies! sessions.
In the Intro class, we spend time meeting new caregivers (and their babies) and orienting caregivers to our key principles and handling suggestions.
Once you come to the Intro class, you're welcome to come to Babies! as often as you like — we just ask that you write to say you are coming.
We limit the number of new babies and caregivers for each session.
For more information on our perspective and what to expect, please read about our principles.
Please also review our guidelines for caregivers.
Read testimonials from caregivers about our Babies! sessions.
PRICE, DATES & REGISTRATION
The cost of the Intro class is $25 for non-members and FREE for members. Become a member of Babies Project to come to this class free and receive full membership benefits. If the cost is a hardship for you, please email us at babies@babiesproject.org and we ​will work something out.
BOOKING
Questions? Email us at babies@babiesproject.org.