Thursdays
12-1pm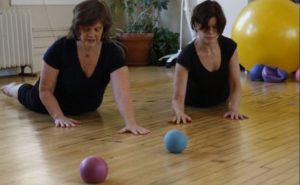 As adults, how can we inhabit the open-ended possibilities of being where we are and moving from there — and living into what could be, which isn't necessarily where we were?
This movement class explores developmental patterns in the context of our adult bodies. Moving through these patterns in our current bodies can help us understand our movement choices and offers a way in to adding more choices.
Informed by a Body-Mind Centering® approach to developmental movement, Adults is an opportunity to consciously re-engage with the early learning process of finding our way to walking. Each class will start with rolling on the floor and sequence through several developmental movement patterns on the way to standing upright.
No previous experience with developmental movement or Body-Mind Centering is required.
Read testimonials from adults who have explored developmental movement with us.
PRICE & REGISTRATION
$20, $15 for BP Members
$150 for a 10-class card
BOOKING
Questions? Email us at babies@babiesproject.org.