Infant Development Movement Educators (IDMEs) at Babies Project
Amy Matthews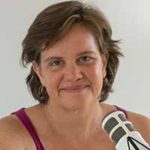 Amy Matthews, CMA, IDME, BMC Teacher, RSMT/RSME has been teaching movement since 1994. She is a Certified Laban Movement Analyst, a Body-Mind Centering® Teacher, an Infant Developmental Movement Educator, and a yoga therapist and yoga teacher.
Amy is the co-founder and co-director of Babies Project with Sarah Barnaby. Previously she was a director of The Breathing Project, and co-authored with Leslie Kaminoff the best-selling book Yoga Anatomy (published by Human Kinetics).
Amy is a Program Director for the School for Body-Mind Centering, Educational Director of the SME Program for Moving Within in Oregon, and teaches on SME & IDME Programs in the US, Germany and Italy. She taught for four years with Bonnie Bainbridge-Cohen in Berkeley CA, and was on the faculty of the Laban/Bartenieff Institute of Movement Studies for 10 years.
Amy has participated several times in Gil Hedley's dissection workshops, and has studied kinesthetic anatomy with Irene Dowd and BMC with Bonnie Bainbridge Cohen. She has studied yoga with Alison West, Mark Whitwell, Genny Kapular and Kevin Gardiner, and full-contact karate with Sensei Michelle Gay.
Amy is certified as a yoga teacher and as a Motherhand Shiatsu practitioner, is registered with ISMETA as a Somatic Movement Therapist and Educator and has been registered with Yoga Alliance as an E-500 RYT. She teaches embodied anatomy and movement workshops for programs in the US and internationally, and works privately integrating Laban Movement Analysis, Bartenieff Fundamentals, yoga, Body-Mind Centering and Proprioceptive Neuromuscular Facilitation (PNF).
CONTACT AMY: email spiralamy@babiesproject.org | website www.embodiedasana.com
Sarah Barnaby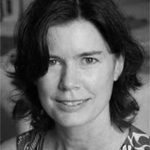 Sarah is certified as a Somatic Movement Educator (SME) and an Infant Developmental Movement Educator (IDME) through the School for Body-Mind Centering. She teaches developmental movement to babies of all ages in NYC. She also teaches yoga and anatomy in group classes and private sessions. She is the co-founder and co-director of Babies Project with Amy Matthews.
At The Breathing Project, Sarah studied extensively with Amy Matthews and Leslie Kaminoff and completed their Yoga Educator (EdY) advanced studies program. She joined the staff of The Breathing Project and eventually started teaching her own anatomy and movement classes there. One of her favorite roles while on staff was curating members series and events, which included hosting Geek Nights, holding space (and time) for Den of Inquiry (a conversation group), and moderating Question Your Answers discussions with Amy and Leslie.
Sarah is certified in Embodied Developmental Movement and Yoga (EDMY) and Embodied Anatomy and Yoga (EAY), Body-Mind Centering® programs that teach developmental movement principles and an embodied approach to anatomy in relation to yoga practice. She's in the process of becoming a Body-Mind Centering Practitioner.
CONTACT SARAH: email sarah@babiesproject.org | website www.sarahbarnaby.com
Adele Loux-Turner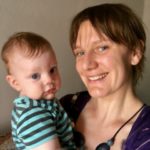 Adele Loux-Turner has taught yoga and movement since she moved to New York to pursue a dance career in 2001.  Although she is glad to work with anybody, she's found her calling teaching pregnant and post-partum women.  She has supported women through their births since 2008.  As a labor doula, Adele works both individually and through the Carriage House Birth collective in Brooklyn. Adele recently took a hiatus from doula work to pursue her newest career as a mother. Her son Gerrard has accompanied Adele to her infant classes since he turned six weeks old.
Adele is certified as both an Infant Developmental Movement Educator and Somatic Movement Educator through the School for Body-Mind Centering®, through which she has worked with many inspiring teachers: including extensive study with Amy Matthews and Roxlyn Moret. She is registered as a Somatic Movement Educator through ISMETA. A yoga instructor certified through Integral Yoga Institute, Adele holds additional credentials in baby-and-me yoga and yoga for labor. She is grateful to Beth Donnelly Caban, Jyothi Larson and Lara Kohn Thompson for sharing their knowledge of all things birth and babies. Adele is certified as a prenatal yoga instructor through New York Yoga and as a children's yoga instructor through Karma Kids. She has a BFA in dance performance from Purchase Conservatory of Dance, where she met her long-time ballet teacher Janet Panetta, who has continued to be an influence on Adele's approach to movement and teaching.
CONTACT ADELE: email adele.in.motion@gmail.com | website http://www.embodiedmother.com/
Nisha Kewalramani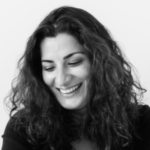 Nisha is a Body-Mind Centering® Practitioner and a certified Infant Developmental Movement Educator from The School of Body Mind Centering®, founded by Bonnie Bainbridge Cohen.
Nisha started her explorations of the mind at N.Y.U, gaining a degree in Psychology. Not satisfied with exploring the patterns of the mind without the interplay of the body, she went on to study Ayurveda with Dr. Vasant Lad at The Ayurvedic Institute in New Mexico. She learned about releasing holding patterns of the mind through the body's natural intelligence. She is an active student of Ayurveda, The Science of Life, and has experienced the effects of its healing powers as a resource for balance.
Nisha's desire for hands-on training led her to get a license in massage therapy at The Swedish Institute. Around the same time, she became a certified Yoga Teacher. Her yoga practice has been influenced by Beth Biegler and Genny Kapuler since 2001. For the past fifteen years, she has focused on movement and touch as a means for transformation, with her longtime study under Bonnie Bainbridge Cohen. While studying with Bonnie, she had the pleasure of meeting Sandra Jamrog and attending her baby classes in NYC. For years, she observed her attuning with babies. Her wisdom, grace and heart centered ways of being have ingrained her practice. She is currently studying Biodynamic Cranio Sacral Therapy with Michael Dunning at The Sacred Yew Institute. Her love for Embryology, as an embodiment of our wholeness, continues to deepen through Bonnie and Michael's sacred teachings.
Nisha is currently teaching Infant Developmental Movement classes around New York City and Brooklyn.  She works with infants and adults, teaching group and private classes.
CONTACT NISHA: email nishakramani@gmail.com | website http://findyourcomfort.com/
Lauree Wise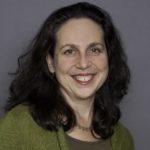 Lauree Wise, MSOT ('00), CMA('85), IDME holds a Master's of Science in Occupational Therapy from Columbia University, is a certified Laban Movement Analyst, a Body Mind Centering® Practitioner ('94) and an Infant Developmental Movement Educator, with training in Process Oriented Psychology. She maintains a practice as a pediatric occupational therapist and somatic movement educator and teaches in the Spanda® Yoga Movement Therapy training programs.
CONTACT LAUREE: email laureewise@gmail.com
Ellyce di Paola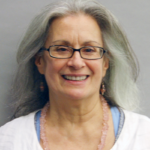 Ellyce di Paola is a certified Infant Developmental Movement Educator (IDME), a registered yoga teacher and graduate of the School for Body-Mind Centering's ® Embodied Developmental Movement and Yoga (EDMY) program. She has worked and studied alongside both of the Preparing for Caring program developers. Ellyce received her masters' degree in developmental psychology from Teachers College, Columbia University (2014), and received post-graduate training from Drs. Christine Anzieu-Premmereur and Talia Hatzor, directors of the Parent Infant Psychotherapy program at Columbia University Center for Psychoanalytic Training and Research, in the Tavistock model of infant observation. The Tavistock model of infant observation was developed by psychoanalysts Esther Bick and Dr. John Bowlby, who was the father of attachment theory.  It was during this training that Ellyce interned at Echo Park Early Head Start as an infant observer and parent-infant counselor. In addition, she is a registered biodynamic craniosacral therapist (RCST), trained in using light touch on the cranial bones and sacrum to enhance the movement of the cerebrospinal fluid– her practice includes mothers and infants.
CONTACT ELLYCE: email zeze1034@verizon.net
Wendy Hambidge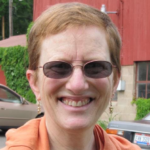 Wendy is a Body-Mind Centering® Practitioner and Teacher as well as an Infant Development Movement Educator. She teaches on BMC™ Certification Programs throughout the United States and Europe and is Board Chair of the Body-Mind Centering Association. She is excited to experience and support this dynamic new project of Sarah and Amy's and take home to Portland inspiration to create a program for babies and families there.

CONTACT WENDY: email wendy@livinginthebody.com | website livinginthebody.com
Expecting(nyc) at Babies Project
Kristy Zadrozny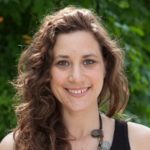 As labor doula faculty member for the Childbirth and Postpartum Professional Association (CAPPA) and the only Mindfulness Based Childbirth and Parenting curriculum teacher in NYC, Kristy is now mentoring the next generation of doulas in New York City. For the last decade, she has dedicated Expecting(nyc), her private practice, to supporting families throughout the childbearing years. She is an advocate for a woman's right to have a healthy, positive birth experience in the environment of her choice. Her support methods include mindfulness, evidence-based education, and an open heart.
CONTACT KRISTY: email kristy@expectingnyc.com | website www.expectingnyc.com
Also Teaching at Babies Project
Elizabeth Plapinger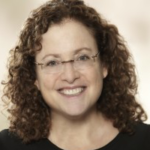 Elizabeth Plapinger is the director and principal teacher of Yoga for Mental Wellness (YMW) at Babies Project, which has provided low-cost or free therapeutic yoga classes for those living with mental illness in NYC since 2004. Elizabeth and her colleagues, Bess Abrahams, RYT, IMT and L. Ruth Kalvert, RYT, SME, CMT, MA, administer and teach the YMW program and provide yoga to various hospitals and community mental health programs in and around NYC. Elizabeth and her colleagues also assist yoga and mental health professionals interested in exploring yoga's complementary role in mental health and wellness.
Elizabeth conducts weekly classes at Babies Project and at various hospitals and community mental health centers in and around NYC. She also works one-on-one with students and families, and consults with yoga teachers, researchers, mental health policy makers and clinicians about yoga's role in mental wellness.
Elizabeth, who is also a lawyer, taught conflict resolution and problem solving at Columbia Law School, is the former director of the Public Policy Projects at the CPR Institute for Dispute Resolution, and is the author of numerous policy and research studies, books and articles regarding ethics, mediation and other methods of conflict resolution. Elizabeth brings the values of procedural justice—recognizing and honoring the inherent dignity of all beings—to her yoga work. In her yoga classes, she explores how breath, movement, and awareness of the body in the present moment work together to increase our sense of wellbeing. She is honored to assist people in crisis, their families and the mental health community in discovering the vast resources of the body and mind through yoga. For more on how Elizabeth has integrated her background in law, conflict resolution and mediation with yoga, Body-Mind Centering and mental wellness, read an interview.
CONTACT ELIZABETH: email elizabeth@yogaformentalwellness.org | website www.yogaformentalwellness.org
Leah Montegut
Leah Thomas Montegut is a yoga teacher/practitioner living in Brooklyn, NY. Originally from Virginia Beach, VA, she came to NYC after receiving her B.F.A. in Dance/Choreography from Virginia Commonwealth University. Shortly after moving to NYC, Leah began practicing yoga and was immediately drawn to the personal, breath-centered approach offered by her first teacher, J. Brown. In 2007, Leah completed 200 hours of advanced training in yoga anatomy at The Breathing Project (NYC), where she studied with Leslie Kaminoff and Amy Matthews. She continued her studies with J. Brown through the professional training program at Abhyasa Yoga Center (500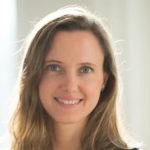 hours). Leah is certified to teach prenatal yoga through Integral Yoga Institute (2010), where she studied with Beth Donnelly Caban and Lara Kohn Thompson. Since 2009, Leah has been studying vedic chanting with Guta Hedewig, taught in the tradition of T. Krishnamacharya and TKV Desikachar. She continued her study of yoga anatomy through The Breathing Project's advanced studies program. Leah has profound gratitude for the guidance and support of her teachers and is honored to share with her students the teachings she has received.
CONTACT LEAH: email leah@babiesproject.org | website www.yogawithleah.com
Svenja Ostwald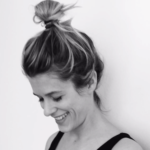 Svenja has been practicing yoga over a decade. A fashion designer who moved to NYC a few years ago, she began her yoga teaching career while pregnant with her daughter Matilda Claire.
After completing the 200 hour teacher training at Yoga Works in NYC (RYT 200), she wanted to dive deeper into the world of pre- and postnatal yoga. Inspired by taking prenatal yoga classes on her own and realizing how her practice has deepened the connection with her baby and the awareness of her body changes, she completed her teacher training at the Prenatal Yoga Center in 2016 (RPYT) right before giving birth.
Svenja has a creative mind and enjoys accompanying pregnant students during this unique journey of becoming a mother. With her way of teaching yoga, students can maintain ease of movement, freedom from pain and a connection to their breath and their baby. Svenja loves to help her pregnant students feel empowered by building strength – both physically and mentally. Her authenticity, kindness and humor make her classes challenging and joyful at the same time.
Svenja is currently teaching pre- and postnatal yoga, Baby&Me yoga and private classes around New York City. Svenja and her daughter Matilda have been participating in Babies! – and now Toddlers – sessions at Babies Project since Matilda was an infant.
CONTACT SVENJA: email hello@ittakestwohearts.com | website www.ittakestwohearts.com