Mondays, 10:30-11:30am
Fridays, 1:30-2:30pm
occasional weekends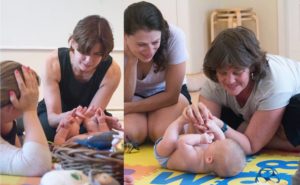 In their first years of life, babies learn to negotiate gravity and locomote by finding midline, rolling over, sitting up, crawling and eventually walking. These sessions are an opportunity to explore the reflexes, movement patterns and pathways for sensory and motor development that help babies learn to move successfully. These learning experiences are the building blocks for self-awareness, effective movement strategies and integrated relationships.
Come learn to see and appreciate what babies are already doing. Babies are learning new skills all the time and the progression of little steps is as important as getting to the big landmarks of sitting, crawling and walking. Learn how to help your baby develop the skills to get into and out of different levels and positions so they can start negotiating the world on their own terms.
These group sessions are structured as open exploring time, where certified Infant Developmental Movement Educators (IDMEs) are available to support the infants in their process, and talk to parents and caregivers about any questions that might come up.
The IDMEs focus on principles such as "baby ball," balancing extension with flexion, the value of "small falls", and prioritizing the process of learning rather than achieving a particular position.
Babies! is intended for babies from newborn to walking and their caregivers. Planning and expectant parents, as well as adults of all ages, are welcome to come and observe.
Read testimonials from caregivers about our Babies! sessions.
PRICES, INFO & BOOKING
Babies! sessions are by-donation. You can donate online here. You can also donate in person via our donation box on site. Please support us at whatever level you can – thank you!
Each time you come to Babies!, please let us know you're coming by booking online below. You can also email babies@babiesproject.org ahead of time to let us know.
What you should know:
The first step in registering for Babies! is to attend a one-hour Be With Your Baby: Intro & Orientation class. In the Intro class, we spend time meeting new caregivers (and their babies) and orienting caregivers to our key principles and handling suggestions.
Once you've come to the Intro class, you're welcome to come to Babies! as often as you like.
For more information on our perspective and what to expect in these sessions, please read about our principles.
If you're a caregiver bringing a baby, please review our guidelines for caregivers.
If you'd like to observe Babies!, please review our guidelines for observers and email us at babies@babiesproject.org to reserve a space. We limit the number of observers at each session.
BOOKING

Questions? Email us at babies@babiesproject.org.