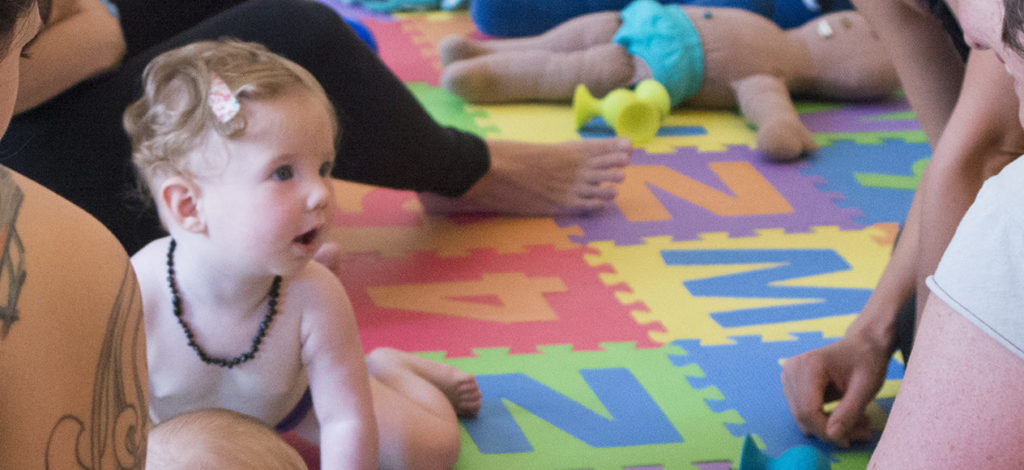 Do you like babies? Do you have baby(s)? Were you ever a baby? Are you a grown-up baby? Please consider supporting us by donating to our campaign! All donations are tax-deductible! Thank you thank you thank you!
Babies Project was created by Sarah Barnaby and Amy Matthews. Sarah and Amy are Infant Developmental Movement Educators (IDMEs) trained through the School for Body-Mind Centering.
Our work with babies reflects questions about teaching and education that we believe applies to everybody (not just babies): how can we change the paradigm to value movement and relationship? how can we create an environment of comfort, trust and curiosity? how can we create situations where the student (baby) is empowered to explore and play? how can we support learning that includes experimentation and allows new strategies to arise? how can we prioritize process and experience over milestones and "getting it right"?
We created Babies Project as a way to engage with these questions through the ideas and philosophies of Body-Mind Centering®, originally developed by Bonnie Bainbridge Cohen.
Amy and Sarah have taught a Babies! class together at The Breathing Project since 2015. This class has served hundreds of babies and their caregivers since 2008, when Amy started it. Since 2015, Amy and Sarah have also co-taught an Adults class, which explores developmental movement in the context of adult bodies.
We believe:
Babies come in as whole people, not as blank slates.
A baby's experience is real and valid, though it might not be comprehensible to us. We can offer comfort without denying their experience, or our own.
A baby's learning arises from a sense of comfort and curiosity, and trust in their environment.
Self-regulation is key to a baby's sense of agency and curiosity – and develops in relationship to their caregivers.
We are the baby's environment. By being present and meeting their needs, we encourage their agency and ability to self-regulate.
We aim to facilitate a healthy interdependence where babies can learn responsiveness, trust and confidence from our presence and responsiveness.
Process is more important than milestones.
Movement skills develop from experiencing pathways, rather than being put into positions. (This means not putting them into upright sitting or standing positions that they cannot get themselves into and out of.)
Development happens in overlapping layers of skills and experience. While there might be an 'ideal' progression, there are an infinite number of ways to do it successfully – and babies will each find their own way.
The IDME's role:
Be with the baby, as a witness and in relationship to what the baby is doing.
Support the baby's comfort, so they can follow their curiosity and learn through their own agency.
Appreciate and start from where the baby is, and focus on the process rather than meeting developmental timelines.
Facilitate pathways and movement choices that are appropriate for the developmental stage the baby is exploring, in order to support what is already present.
Follow the baby's rhythms of attention as it moves from outer exploration to inner processing.
Support a balance between flexion and extension, and offer different experiences of "baby ball" as a resource for recuperation and self-regulation at all ages.
Show possibilities for handling and moving the baby that encourage their spatial awareness and support movement pathways.
What our Babies! sessions offer:
Opportunities to observe how much is already happening with a baby. Space to ask questions about a baby's process, and how to support them.
A chance to be supported in making choices that value the many different ways that development can unfold, and that value the relationships between caregivers and infants.
Time to be with a baby where there are no expectations about performance or behavior.
These ideas are based on the Body-Mind Centering® approach to infant developmental movement, originally developed by Bonnie Bainbridge Cohen.
© 2016-2017 Amy Matthews & Sarah Barnaby